Individuals in this generation love Android apps for their convenience and usability. However, they may have access to an Android device all the time. Thankfully, you can run all the Android apps on your Windows 10 PC by using some free and paid tools. Therefore, in this article, we will explain to you exactly how to use Android apps on your Windows 10 PC 2023, step-by-step. Read this article till the end to get every information. So, you will get every information and you will be able to use your Android apps on your PC.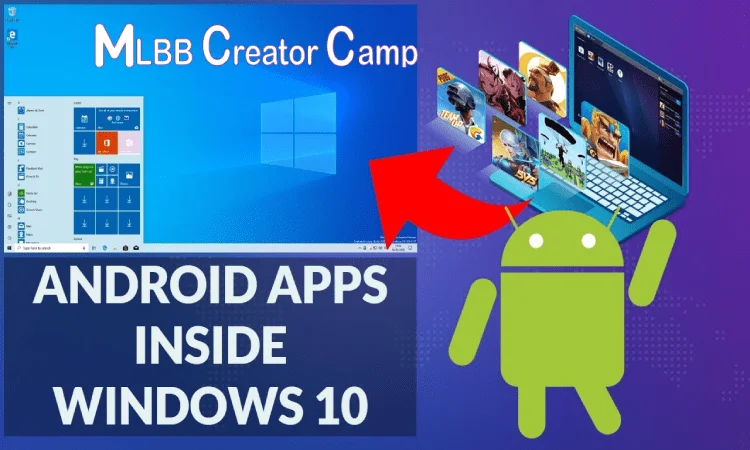 Can I use Android apps on my PC? It is the most common question of every Android user in the world. It does not matter if you are a tech pro or not. You can use your all Android apps on your mobile with some tools. Bluestacks is the most popular app that is used to use your Android apps on your PC with Windows 10 in 2023. All you have to do is to download the Bluestack app on your PC and run it.
How To Run Android Apps on Windows 10 PC?
Below we have listed the whole process so read it carefully and use these tricks.
Firstly, install the App from Microsoft on your Windows.
Now go to Play Store and find the app that will be consistent with your phone.
Link your Android phone to your PC.
Now click on the Get Started button.
Once the installation process is finished, you can pair your phone by clicking the "pair with QR code button.
Now enable the link to Windows option on your phone settings.
Click on continue and place your phone on the QR code.
Once the camera picks your QR code windows will display a screen and required permission.
Allow permission from your phone to open in Windows.
Now tap on the finish icon it will automatically finish and link your Android phone with your PC.
On your PC you will see a welcome screen displayed on the front window.
Now go to the left-hand panel and pick the apps option.
Finally, it will show the list of installed apps on your PC.
Luckily, now you can click the app that you want to launch on Windows.
Lastly, open the app on Windows 10 and enjoy its features.
Run Android Apps Via Bluestcaks:
Bluetacks is the best app for emulators that allows you to run Android apps, games, Mods, and Tools on your PC. Because PC does not support these Android apps, users can use the Bluestack app to use them on Laptops and PC. Also, it offers a customization option to make the app screen look good.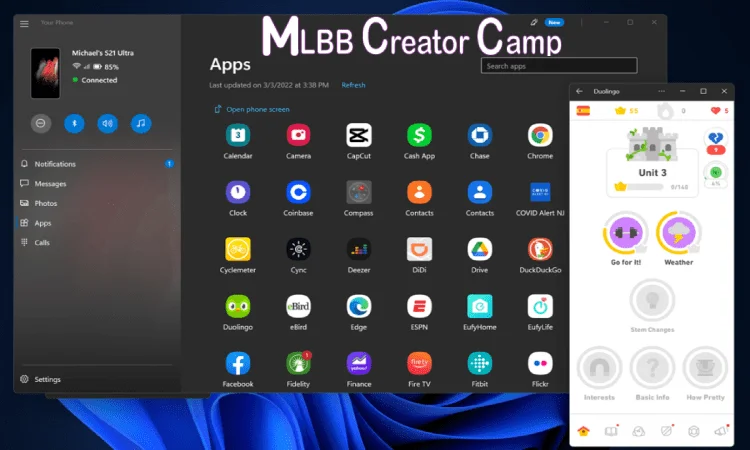 How To Download Bluestack X on Windows 10?
Firstly, download the Bluestack app from any trusted website from Google.
Now install the Bluestack on your PC, after finish it will launch automatically.
To open any app or play a game, click one from the catalog and the app player will handle the rest of the work.
Pros of Bluestack:
App compatibility: Bluetsack offers a high level of compatibility. That allows users to run many of the Android apps and games on their computers.
Multi-Instance: It allows users to run multiple instances of the emulator at the same time. Which will be useful for multitasking or testing different kinds of apps.
Customization: It provides many customization options like as keyboard mapping, and allows users to optimize their gameplay or app usage experience.
Gaming Performance: Bluestack is also known for its good gaming performance. Likewise, it offers features like keymapping, controller, support, and the ability to run graphics-intensive games smoothly.
Cloud Sync: It offers a cloud sync feature that allows users to sync their app data and progress across different devices. It makes it convenient for users who switch between their computers and mobile device frequently.
Cons of Bluestack:
Resources intensive.
Occasional Instability.
Advertising.
Limited Android version.
Privacy Concerns.
Required massive storage on your computer/PC.
Why Use an Emulator To Run Android Apps On Windows 10 PC?
Many users want to use their Android app on PC or laptops, so to make it easy for those users developers have created the Bluestack app that helps users to use Android apps on their PC. Some of the most popular apps to use Android apps on PC are Bluestack, NoxPlayer, and MEmu. The features you need in an Android Emulator when selecting an emulator are such as speed, stability, compatibility, and memory consumption. As they can greatly affect the performance of your Android Apps. Using this amazing app you can enjoy many Android apps on your PC such as YouTube Red APK.
Frequently Asked Questions About Android Apps Windows 10 PC:
Can I Use Android Apps with Touch Interactions on Windows 10 PC?
Yes, you can use Android apps with touch interactions on your Windows PC if you have a touch-enabled device or a touchpad.
Is It Safe to Use Emulators to Run Android Apps on Windows 10 PC?
Using emulators to run Android apps on your Windows PC is generally safe, as long as you download them from trusted sources.
Can I Use the Google Play Store on Windows 10 PC to Download Android Apps?
Yes, you can use the Google Play Store on your Windows 10 PC to download Android apps by using an emulator such as BlueStacks.
How Do I Transfer Files between Windows 10 PC and Android Emulator?
Transferring files between Windows 10 PC and your Android emulator is easy, and this section will provide you with the steps to do so.
Conclusion:
It's a terrific way to experience popular Android apps without the need for a separate device to run Android apps on your Windows 10 computer. You should be able to run any Android app on your Windows 10 PC with ease by following the instructions provided in this guide.